The Inbetweeners Movie is on course to break DVD record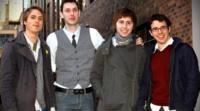 The Inbetweeners Movie is on course to become one of the biggest-selling DVDs of 2011.
The film has sold more than 800,000 DVD and Blu-ray copies in the UK since its release on Monday, according to the Official Charts Company.
It's the third fastest-selling video release of the year, after Harry Potter And The Deathly Hallows Parts 1 and 2.
The movie is now expected to cross the one million sales mark by the end of the week.
This would make it one of the best-selling comedy DVDs of all time in the UK.
Martin Talbot from the Official Charts Company said: "Even for this time of the year, this is a great result.
"If it carries on at this rate, it will sit alongside Love Actually, The Full Monty and Hot Fuzz as one of the biggest British comedy DVDs of all time."
Gennaro Castaldo, spokesman for HMV, said: "We're seeing record sales of the Inbetweeners Movie, which is shaping up to become our biggest ever week one release on DVD and Blu-ray."
The Inbetweeners began as a television series on E4 in 2008.
The Duke and Duchess of Cambridge saw the film at the cinema earlier this year.
James Buckley, who plays Jay, said in October that the cast would be open to filming a sequel.