R. Kelly to set sail on Caribbean 'Love Cruise' concert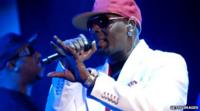 R. Kelly has announced details of a five-day cruise liner performance, dubbed the "Love Letter Cruise".
Fans will have the chance to join the singer on board as the cruise sets sail from Miami and tours through the Caribbean in October 2012.
The concert promises to present a "fabulous performance, never before seen at sea".
R. Kelly has also said he'll be bringing along "special guest artists" for the trip.
It'll also offers passengers food, aerobics classes and pampering treatments.
Earlier this summer the R&B star vowed he would return after he recovered from emergency throat surgery.
He was taken to hospital in Chicago in mid-July to have an abscess on one of his tonsils removed.
"I want to say thanks to all the prayer warriors out there for supporting me. And praying for me," he told fans at the time.
R. Kelly is known for tracks like Vibe, I Believe I Can Fly and Ignition (Remix).
The three-time Grammy award winner has also written tracks for a host of artists including Britney Spears, Janet Jackson, Whitney Houston and Usher.