Simon Cowell 'didn't like' Paula Abdul on American Idol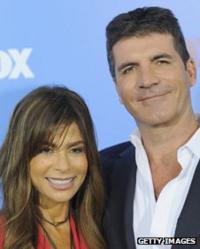 Simon Cowell has admitted that he didn't like fellow judge Paula Abdul on the first two series of American Idol.
He worked with the former pop star on the programme for eight seasons until she left the show in 2009 and they now appear together on The X Factor USA.
"On the first two seasons, we couldn't travel on the same plane together," he told ABC's Barbara Walters.
"We really disliked each other that much. I think it was sexual tension - on her part."
Simon Cowell gave up his seat on the X Factor judging panel in the UK to launch the show in America this year.
The 52-year-old music executive has been mentoring the girls while Paula Abdul has been looking after the groups.
Talking about his chemistry with the star, who has had six number one singles in America, he jokingly said he had thought about dating her and asking her to come back to his house for a drink.
"I considered it but I don't think the after would be as good as the before," he said.
"I'd let her stay for a few hours but then it would have to be goodnight."
Josh Krajcik, Marcus Canty, Chris Rene and Melanie Amaro are still battling for a place in next week's X Factor USA final.
Paula Abdul has no groups in the final four while Simon Cowell will be hoping his final act, Melanie, makes it through.
The X Factor USA semi-finals are on ITV2 on Thursday night (15 December) at 8.30pm.