Peter Kay is the first comedian to sell 10 million DVDs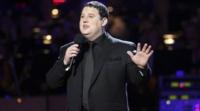 Peter Kay has become the first comedian to sell 10 million DVDs in the UK.
The 38-year-old hit the sales milestone after The Tour That Didn't Tour DVD was released last month.
It was recorded on Kay's recent tour, which sold 1.2 million tickets, making him the world's biggest and fastest-selling stand-up comedian.
He has also had sales success with a string of other releases including Live at the Top of the Tower, That Peter Kay Thing and sitcom Phoenix Nights.
The comedian has now sold more than Avatar and Mamma Mia! put together, according to Universal Pictures UK.
"It's unbelievable to have sold so many DVDs," said Kay.
"Funnily enough I've not got any of my own as my family take them all."
Friend and fellow comedian Jason Manford commented: "Peter is one of the most important comedians of his generation and one of the funniest performers working today."
In 2009, Peter Kay had sales success with his reality TV parody, Britain's Got The Pop Factor... and Possibly a new Celebrity Jesus Christ Soapstar Superstar Strictly on Ice.
The comedian has now sold a total of nearly 10.3m copies of his DVDs.