What will the big albums of 2012 be?
30 December 2011

From the section

Music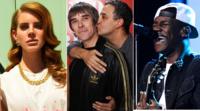 Lana Del Rey - Born To Die - 30 January
The mystery around Lana Del Rey continues to unravel.
But what do we really know? We know she's Lizzy Grant, 24, from New York.
We know the wistful video for new debut single Video Games had more than 10 million clicks in 2011.
We know she's aloof, that with her music she conjures a feeling of faded Americana and that Blur's Damon Albarn is a fan.
Her debut album Born To Die - as you can probably guess - won't be a fun listen, but it will be an engrossing one. It's released in the UK on 30 January.
Mumford & Sons - album title and release date unknown
In 2009 Mumford & Sons launched their debut album Sigh No More by playing in a barn in Hertfordshire.
They ended the run last year by playing at the Grammys in front of Lady Gaga and Rihanna.
Bar a couple of lofty slots at Coachella and Glastonbury 2011 has been a quieter one for them - it was all about penning new material.
It could be the album that that transforms them into a genuine, bone fide festival-scaling headliner.
Stone Roses - album title and release date unknown
It was the one they said would never happen. No, not The Smiths, the other one.
Burying the hatchet at bassist Mani's mother's funeral, singer Ian Brown and guitarist John Squire will step back out on stage together properly in 2012.
The appetite is there for it. Upon their release in October 220,000 tickets were sold in 68 minutes for their three shows at Heaton Park, Manchester.
On announcing those gigs bassist Mani said: "Something magical happens when us four are in the room together, you can't put your finger on it."
With an album (1989's self-titled debut) heralded as changing the course of British music in their pocket, there's a lot to live up to.
Their new album, as yet untitled, is expected to be released in the summer.
Labrinth - Electronic Earth - 19 March
Were it not for two exceptional chart kinks Labrinth would have two UK number one singles from the two he's released so far.
As it is, Let The Sun Shine and Earthquake, have been kept off the top spot. But this 22-year-old is a born chart-topper.
But his debut album promises to deliver all the inventiveness that saw him produce tracks like Ms Dynamite's Neva Soft to Tinie Tempah's Pass Out.
No wonder Simon Cowell has a knowing grin - he's label boss to one of British music's hottest prospects.
Labrinth's album, Electronic Earth, will be released in March.
The xx - album title and release date unknown
Shy 'n' retiring types The xx dealt with their 2010 Mercury Prize win by disappearing immediately. No fanfare, barely any press and no extended tour.
Presumably it was to ensure they got album number two exactly right.
The only hint circulating so far is that band chief Jamie Smith says it's been inspired by "club music" and that he wants it done in time for the festivals.