Two Door Cinema Club's Lady Gaga remix 'total surprise'
14 December 2011

From the section

Music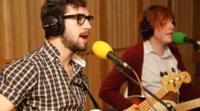 Two Door Cinema Club have told Newsbeat that being asked to remix a song for Lady Gaga was a "total surprise".
The band's reworking of the US singer's Electric Chapel appeared on her remix album earlier this year.
Alex Trimble from the band described the experience as an "incredible opportunity".
Two Door Cinema Club, from County Down, have had chart success in the UK with I Can Talk, What You Know and Something Good Can Work.
Trimble said: "I got a call from our manager, saying Lady Gaga's asked if you want to do a remix and you've got a week to do it in.
"For me that's not really a lot of time, especially as we were on tour, but I couldn't really turn down that chance. It's such an incredible opportunity.
"So I just worked every single day and night and just threw it together and I'm really proud of it. It's such an honour to be asked by such a massive artist."
'Writing solidly'
Two Door Cinema Club are working on their second album.
"It's coming along pretty well, we've been writing solidly since the start of October," said Trimble.
"I'd say we're probably 70% there with the writing, so hopefully by the end of January we'll be ready to hit the studio and start recording."
The band are living together while they work on the new album.
"We've set up a little rehearsal space in our basement and a studio in one of the spare bedrooms, so we've got a nice little comfortable set-up here," Trimble said.
"It's very helpful when we're trying to write and we can do it at any time of day. We live in a nice detached house so there's no real problem with bothering the neighbours or anything so we can usually make as much noise as we like."
The 22-year-old is the band's lead singer and also plays guitar.
"Usually we'll write all afternoon, and then we'll do our own thing in the evening. It's nice that we've got a schedule so we've got a bit of time to ourselves if we need it," he added.
The band released their debut album Tourist History in March 2010.
"The first record was written when we were still at school. There wasn't a lot of life experience in that album," the singer said.
"This time we've toured the world three or four times over and met so many interesting and wonderful characters, and visited beautiful and amazing places."