The X Factor final: Is it better not to win the show?
12 December 2011

From the section

Music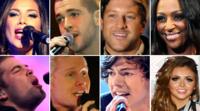 In front of a live crowd of 10,000 and a TV audience of millions, Little Mix became the eighth winner of The X Factor on Sunday night (11 December).
For Little Mix that means a contract with Simon Cowell's record label and, now, a decent chance of securing a Christmas number one with their cover of Damien Rice's Cannonball.
Seventeen-year-old Amelia Lily finished third in the competition with Marcus Collins the runner-up.
They may not have lifted this year's crown, but new figures from the Official Charts Company show that making it to the final is often all you need to launch a successful career.
Albums success
The most successful X Factor graduate in terms of UK album sales has been Leona Lewis, the competition's winner in 2006.
Between her two albums (2007's Spirit and 2009's Echo) the 26-year-old Londoner has sold 3,730,000 records in the UK.
But winning isn't everything. Only twice has the winner sold more albums than another finalist in the competition's seven-year history.
Last year's winner Matt Cardle told Newsbeat: "There's a lot of pressure releasing singles and albums anyway.
"Even more so off the back of X Factor and especially being a male and given the male track record. I just want to do the best I can."
Since Leona Lewis's win (2006) a runner-up or third placed contestant has gone on to sell more albums than the champion, including the last four years in a row.
Those acts are Rhydian (runner-up 2007), JLS (runner-up 2008) Olly Murs (runner-up 2009) and One Direction (third place 2010).
Covers
But, that's not to say the careers of the winners have faltered.
For example, JLS may have come second to competition winner Alexandra Burke in 2008, but her debut solo album Overcome has still sold 800,000 copies in the UK.
Figures from last year's final three are still changing. To date Matt Cardle's album Letters has sold 160,000 copies and One Direction's Up All Night 220,000.
Understandably sales of singles and other tracks paint a different picture - an important reason being the boost the winner's single initially gets heading into the Christmas period.
Going back at the start, runners-up in the first series of The X Factor in 2004 G4 may have sold more albums, but victor Steve Brookstein has sold more singles.
The same goes for 2005 winner Leon Jackson. He sold more than 15 times the number of singles as second place Rhydian.
Alexandra Burke, winner in 2008, has sold more singles than runners-up JLS by a margin of more than 100,000.
And Matt Cardle, who released a cover of Biffy Clyro's Many Of Horror following his victory last year, has sold almost double the number of singles as teen heart-throbs One Direction.
Of course, it's not just the finalists who can go on to fashion successful recording careers.
Cher Lloyd and Diana Vickers, neither of which reached the final in their years, have both scored UK number 1 singles.
The day after the final, that's the kind of encouragement that suggests we may still see more from the likes of Misha B, Amelia Lily and Marcus Collins yet.