OnLive app to stream console games for mobile devices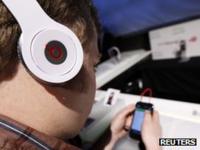 A new app is being launched that will allow some video games to be played on mobile devices.
Subscribers to OnLive's gaming service will be able to access the US firm's content on phones and tablets via so-called cloud computing.
Special touchscreen controls have been developed for 25 titles, including L.A. Noire and Arkham City.
An app for Android smartphones has already been launched while an iPhone version is being approved by Apple.
Anyone who downloads the app will also get free access to the 25 adapted games.
A new wireless controller, costing £39.99, will allow gamers to stream titles from OnLive's library on tablets and smartphones as well as via the company's existing television set-top box.
Cloud computing lets people use files and applications over the internet instead of having to save them on their own device.
"Today marks a major milestone," said Steve Perlman, OnLive founder and CEO. "OnLive is now delivering the latest, console-class, top-tier games on tablets and phones for instant, on-demand play anywhere, anytime.
"Through the free OnLive app, tablet and smartphone gamers can play top console and PC titles like Assassins Creed: Revelations with exclusive OnLive cloud touch controls or with the new mobile-compatible universal OnLive wireless controller.
"Tablets and smartphones are now capable of running the hottest, highest-end games. Gaming and mobile devices will never be the same."
Connection 'limitations'
The quality of the games will depend on the speed of the connection.
The company says if connection speeds becomes too slow, gameplay will be preserved at the expense of picture quality.
Using cloud computing to stream OnLive services also means users will be able to pause a game on one device and continue on another.
Piers Harding-Rolls, Head of Games for media research firm Screen Digest, said OnLive was an "exciting technology" and its PC-based service had largely shown itself to be reliable.
However, he said the new mobile service still had a lot to prove and that some gamers could struggle if they weren't using a Wi-Fi connection.
"In terms of the mobile space, obviously there are certain limitations to 3G coverage and other high speed mobile networks," he said.
"As many users know the connection rates can be pretty up and down. It's difficult to argue the 3G connection will be as good as the Wi-Fi experience."
Mr Harding-Rolls also said that using only the touchscreen could mean a compromise.
"There are some games that are going to fit very well with touchscreen," he said.
"But inevitably, with anything that changes the control system fairly rudimentarily, it can be a bit hit and miss in terms of the experience."
The OnLive app may also find itself competing for the affections of some gamers.
Sony's latest dedicated handheld console, the PlayStation Vita, is due for a February launch in the UK.