Metallica 'could move' 2013 tour dates because of euro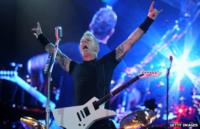 Metallica may be forced to move 2013 tour dates to next year because of uncertainties over the euro.
The band's manager, Cliff Burnstein, has told the Wall Street Journal newspaper that he is worried promoters may not be able to pay their fees.
"Over the next few years, the dollar will be stronger and the euro weaker.
"If that's the case, I want to take advantage of that by playing more shows now because they will be more profitable," said Burnstein.
Metallica have toured Europe almost every year since bringing out their debut album, Kill 'Em All, in 1983 making millions of pounds in the process.
They headlined last summer's Sonisphere rock festival and are back in the UK next year for the Download rock festival in June.
'Best markets'
They will be playing their self-title "Black" album from 1991 in its entirety at Donington Park and at various European festivals through the summer of 2012.
The band - made up of James Hetfield, Lars Ulrich, Kirk Hammett and Robert Trujillo - have not commented on whether they are moving their 2013 tour dates forward, which have yet to be announced.
"I'm not an economist, but I have a degree, so it helps," said their manager.
"You have to ask yourself, what's the best time to be doing what, when and where.
"We're a US export the same way Coca-Cola is. We look for the best markets to go to. Right now Indonesia is on my watch list."
Burnstein also suggests that Red Hot Chili Peppers are being forced to bring forward their European concert dates because of uncertainty in the 17 countries that use the euro.
The 63-year-old manager also manages the California rock band with partner Peter Mensch and says they make 75% of their profits from touring outside the US.
They played a special one-off concert for Radio 1 in September ahead of some UK arena dates.
Warner Music, which represents both bands in the UK, says reports that Metallica and Red Hot Chili Peppers are being forced to move tour dates from 2013 to 2012 are "nonsense".