HMV apologises after X Factor 'winner's single' mistake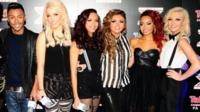 HMV has apologised after a page for the X Factor winner's single was posted for pre-order on its website, five days before the show's final.
The CD was listed as "coming soon" with the title: "Amelia Lily X Factor 2011 Winner's Single".
The retailer had apparently created dummy pages for each of the X Factor finalists, but only uploaded one.
Amelia Lily will compete with Marcus Collins and Little Mix in Sunday's final, being held at Wembley Arena.
"Hmv.com was looking to accept customer pre-orders for versions of the X Factor winner's single recorded by each of the three finalists," said HMV spokesman Gennaro Castaldo.
"Due to a technical issue, only Amelia Lily's details were uploaded.
"These have been temporarily removed so that all three finalists details can go up at the same time.
'Technical error'
"This has been the result of an unforeseen but regrettable technical issue, for which we apologise and ask that nothing further be construed."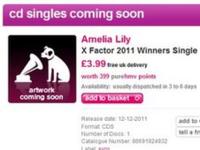 This weekend's X Factor winner will be decided by a public vote.
In the final, 17-year-old Amelia Lily will face Liverpudlian Marcus Collins and Little Mix, the first girl group to make it to this stage of the competition.
Caren Davies, head of publicity for the X Factor, said: "This is absolutely nothing to do with The X Factor.
"HMV has admitted this was due to a technical error on their site."
This is not the first time Amelia Lily has been been at the centre of controversy surrounding The X Factor.
She reached the final after being voted off by her mentor Kelly Rowland in the first week of live shows.
She was then reinstated in a public vote after Frankie Cocozza left the show.
Before presenter Dermot O'Leary told viewers vote lines were no longer open, ITV's Scottish franchise STV claimed on its website that Amelia Lily had been voted back in leading to rumours the voting was rigged.