Lily Allen talks about baby for first time on Twitter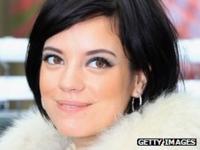 Lily Allen has talked publicly for the first time since the birth of her baby in a message to her Twitter followers.
The pop singer gave birth last week although no official announcement has been made.
In a message to fans, she wrote: "Thank you for all the flowers and lovely messages everybody. very touching indeed. nuff luv xx."
The singer has previously suffered two miscarriages, last year and with Chemical Brothers' Ed Simons in 2008.
The 26-year-old is usually a regular Twitter user but had not posted any messages for more than a week.
Her last one had been the brief "Totes amaze" on 25 November, the day she is understood to have given birth.
Lily Allen's sister, Sarah Owen, wrote on the site: "I LOVE my little niece! She's the sweetest little thing ever!! So proud of little sis @MrsLRCooper xxx.
The star, who lives in Gloucestershire with her husband Sam Cooper, said her dream was to live in the country and have children.
Among celebrities to have congratulated her on Twitter are Myleene Klass who wrote "congrats".
Presenter and actress Amanda Holden, who is expecting her second child, tweeted: "Massive congrats to lily and Sam! Such good news. Xxxx."
Radio 1 DJ Edith Bowman wrote on the site: "Massive congrats to @MrsLRCooper and family on the arrival of their little girl. So much happiness and love going their way. Xxx."