Business groups worried over 4G mobile broadband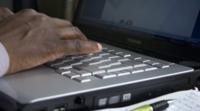 Plans to replace the current 3G mobile network with new 4G technology have been criticised by business groups.
The Federation of Small Businesses and the National Farmers Union (NFU) say the rollout is taking too long and won't cover enough of the UK.
They are worried hundreds of thousands of people, mainly in rural areas, could be left behind.
Ofcom says the project is moving as quickly as possible and that no final decision has been made about coverage.
Two 4G trials are being carried out in the UK.
One is taking place in central London, run by O2, and another in north Cornwall, jointly run by Everything Everywhere and BT.
Twenty-five-year-old Hayley Gaffney is one of around 200 people taking part in the Cornwall trial.
Until she got the 4G broadband she was only getting speeds of just over 1Mbps.
"The internet was an absolute nightmare," she says. "It just kept crashing because it was so slow."
However, since joining the trial her broadband speed has jumped to more than 11Mbps.
"The internet really is amazing to what it was before," says Hayley.
"It was things like watching YouTube, uploading photos onto Facebook, just uploading the news feed on Facebook, getting my emails without getting them a few days later. Before it was so slow."
'More ambition'
Andrew Cave from the Federation of Small Businesses says those kinds of benefits are vital to roll out to every part of the UK, not just urban areas.
"Businesses in rural areas need broadband now," says Mr Cave.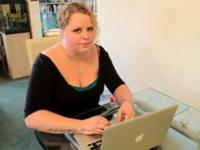 "They [the government and Ofcom] need to move faster on this and be more ambitious."
Current plans mean the 4G network won't be in place until 2013 at the earliest and will only allow for a maximum of 98% of the UK to be covered.
Phil Bicknell, chief economist at the NFU, says it means that hundreds of thousands of people, mainly living in rural areas, risk being left behind.
"Coverage is just part of it," he says.
"The other issue is with regard to connection speeds.
"We're seeing that widening gap between those people in rural areas, in terms of the speed of their connection with broadband, and those superfast connections that are increasingly emerging in urban areas."
Follow Newsbeat's technology reporter Dan Whitworth on Twitter