Steven Moffat denies Doctor Who 'reboot' film plan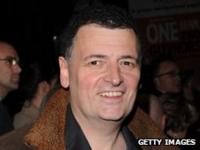 Steven Moffat has reassured viewers that Doctor Who will not be drastically changed for the big screen.
Speaking on Twitter, Moffat said a Doctor Who film "would certainly not be a Hollywood reboot".
Fans of the BBC One show had contacted him on the site after comments made by David Yates last month.
The director had said that the programme would need a "pretty big transformation to work in a bigger arena".
David Yates, who has directed four of the Harry Potter films, had also commented that the production team would have to "start from scratch", prompting fears from fans that a brand new cast would be brought in.
Steven Moffat responded: "To clarify, any Doctor Who movie would be made by the BBC team, star the current TV Doctor and would certainly not be a Hollywood reboot.
"David Yates was speaking off the cuff, on a red carpet. You've seen the rubbish I talk when I'm cornered."
Last month, Matt Smith and Karen Gillan discussed the movie rumours with Fearne Cotton on BBC Radio 1.
"I have absolutely no idea what [the film] will be about. I doubt we'll be in it," Smith said.
Gillan added: "There's always rumours about a Doctor Who film. I remember them saying Johnny Depp was going to be the Doctor at one point.
David Yates has previously claimed that a movie would take years to produce.
It's likely that a new actor will have taken over from Matt Smith in the lead role by the time a film goes into production.
A new episode, The Doctor, The Widow And The Wardrobe, is set to air on BBC One on Christmas Day.