Your Views: Thousands walk out in national strike day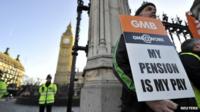 Britain is facing its biggest public sector strike in decades, as up to two million workers protest over proposed changes to their pensions.
Teachers, hospital staff and immigration officials are among those staying away from work.
Most schools have closed and some hospitals have delayed operations but airports are so far unaffected.
Public sector unions say workers are being asked to pay more and work longer for smaller pensions.
The government says the pensions will still be more generous than those available to private sector employees.
You've been leaving your views on Newsbeat's Facebook page

Cheryl Dunning - I'm a registered childminder and think the strike stinks! I have to work for less than minimum wage (£4 an hour) or else i wouldn't get any work, and have to sort out a pension for myself. These people moan about how little they get paid? get a grip people!!!
Sarah Corbett - I'm heading to Manchester city centre shortly to show my support for the hard working people in public sector employment. I'm not taking this lightly, nor are many others. We have to stand up and show we won't be bullied by the mistakes of others.
Ahmed Nuaman - I totally understand why they're striking but it's a very stupid thing to just strike; why don't they do something productive like help out a charity for the day or do a community project?
Craig Carson - Those that are seen as strike breakers will probably get quite a hard time by those with the "me me me" mentality. I've said it before and I'll say it again, cuts have to be made whether people like it or not, unfortunately a lot of people seem to think that they should be spared from them though.
You've also been sending your text messages to 81199
Karen in Leeds - My husband works for Leeds City Council on far less money than he would have had in the private sector but knowing that at least when retired he would have a reasonable pension. He no longer has the time to make up any shortfall.
Anonymous (from Lincoln) - I'm a teacher and want to remind people that we don't get big pay packets, bonuses or much appreciation for the job that we do, but no one minds those things because we've relied on a good pension at the end of our career. We don't want to strike and put people out, but we're fighting for what we believe in.
Paul in London - Teachers, nurses and most public service workers earn more than a front line soldier. We are unable to strike, they should be grateful to have a job and if they don't like it then by all means change jobs.
SP From Aberdare - Public sector workers need to step into the real word, they have lots of benefits they take for granted, sick pay being just one! Private company workers would gladly swap places. Having experience of working with public sector I feel I am able to comment.
The view from strikers in Aberdeen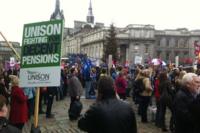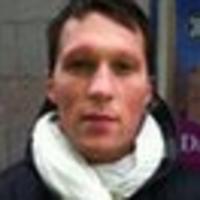 Alexander Bruce, 25
"It's important for people to get noticed and pensions are important to fight for.
"This is costing our economy a fortune today, but hopefully now it will lead to realistic negotiations."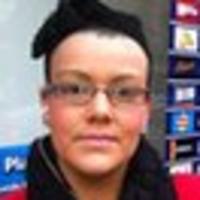 Lauren Kane, 17
"If everyone goes on strike, there's so many people looking for jobs, they can just sack them and hire new people.
"I don't think the strike will solve anything."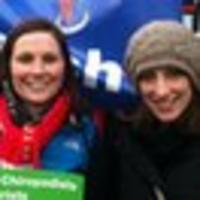 Christina Gunn, 26, and Jane Harrison, 28
"We're angry we're going to have to work another 40 years or so, and end up with less at the end."
Follow @BBCNewsbeat on Twitter to get all our latest stories