David Hasselhoff not returning to Britain's Got Talent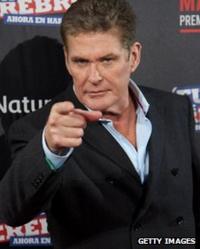 David Hasselhoff will not be returning to Britain's Got Talent, the US actor has confirmed on Twitter.
The 59-year-old confirmed his exit following reports that he had been dropped as a judge from the ITV1 show.
He said: "It's official. I'm not coming back to Britain's Got Talent. So if you want to see me live come check me out in Bristol as Hoff the Hook in Peter Pan XXX."
Comedian Michael McIntyre announced his departure in September.
The only confirmed judge for the sixth series of the talent show, which starts with auditions in January, is pregnant actress Amanda Holden.
'Hoff the Hook'
David Hasselhoff, who appeared with Radio 1 DJ Scott Mills at the Edinburgh Festival Fringe this summer, had been criticised for not understanding the accents of some contestants.
"Thanks to everyone who supported me on my Britain's Got Talent days," his tweet continued.
"Nothing but fond memories of the cast and crew and thanks to Simon Cowell."
TV production company talkbackTHAMES has confirmed the news that he won't be returning as a judge.
The star, who posted a message on his website this week telling his fans to put pressure on part-time judge Simon Cowell to keep him, finished his tweet by saying: "Hoff the Hook."
The other two judges for the next series have not been confirmed yet.
Possible names for the new panel include former X Factor judge Dannii Minogue, comedian David Walliams and former EastEnders actress Samantha Womack.
Dannii Minogue tweeted recently: "BGT headlines - all news to me. Planning to be back on UK TV soon so hold tight."