Dappy from N-Dubz discusses Brian May collaboration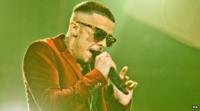 Dappy has revealed Queen's Brian May got in touch with him after hearing the rapper's debut single.
The Queen guitarist features on the rapper's forthcoming second single, Rockstar.
"The reason Brian May approached me in the first place was apparently he liked the lyrics in No Regrets," Dappy said.
"He hollered me and I said, 'Yeah, come and do my second single.' He came and he loved it and he's doing a massive solo at the end."
The 24-year-old says he feels he has matured since he first became successful with N-Dubz.
"N-Dubz was the whole teenage kid thing," he said. "Right now I'm on fire, I can sing for you, I'm going to bring you big man talk."
Dappy topped the charts for the first time as a solo artist earlier this year.
He says finding chart success is "all about making a big universal track".
The singer was speaking to Newsbeat backstage at 1Xtra Live in Manchester.