Example rules out collaborations on next album
29 November 2011

From the section

Music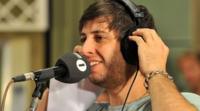 Example has told Newsbeat he doesn't want to collaborate with any other artists on his new album.
The singer has already begun working on the follow-up to his current record, Playing In The Shadows.
The 29-year-old said: "I've started writing my fourth album, and the only collaborations will be with producers.
"I just don't know if it makes sense for me to do that many [collaborations], I just want to exist on my own if I can."
Example, whose real name is Elliot Gleave, also revealed who he would like to produce the forthcoming album.
"There'll hopefully be a lot of people I've worked with before like Nero, Chase & Status and Skream. I also want to do something with Rob Swire from Pendulum.
"I'll probably go to America and maybe try and do something with Swedish House Mafia and Skrillex."
JLS fan
Speaking to Newsbeat at Mencap Music's Little Noise sessions, Gleave said he has turned down several opportunities to work with other artists over the last year.
"I get asked to do maybe five or six features a week, ranging from boy bands and girl bands to new indie bands, to remixes of rock bands.
"[But] I need to have a break because I've been on daytime radio every day for the last 18 months and I don't want to overkill it.
"In terms of other artists I'm probably not going to be doing many collaborations. I want to limit it to stuff that I'm a huge fan of."
The rapper is known for his controversial opinions, which he often posts on Twitter.
He recently upset fans of The Saturdays after describing the girl-group as "miming dancers".
When asked about his comments on the site, Example said: "If I slate the Saturdays it's not because I hate them personally.
"I just think the record label should be doing a better job of marketing them or writing them songs.
"It's not like I hate girl bands or boy bands, I just don't like bad pop. I think there's a good way and a bad way to do pop.
"On the flip side, I really like people like JLS. I think they have good songs and a good image and they're put together well and they put on a good show."
Example has topped the UK singles chart twice this year with Stay Awake and Changed The Way You Kissed Me.