Arctic Monkeys currently 'unsigned' for next album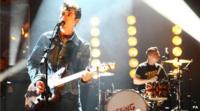 Arctic Monkeys are yet to sign to a record label for their next album.
The Sheffield band are currently without a deal after their tie-up with independent label Domino Records expired.
Music Week says the band's manager has had "plenty of enquiries" from other companies, but that they are likely to stay loyal to Domino.
In June, the band's album Suck It And See, became their fourth to go straight to the top of the charts.
Sony's Columbia label is understood to be one of those that has made enquiries about the band's availability.
Ian McAndrew, the Arctic Monkeys' manager, told Music Week: "We have not entered into discussions with any other prospective label, although we have received plenty of enquires.
"Domino has been a great label for the band and afforded us fantastic support and therefore will be at the front of any future discussions we may have about further albums."
The four-piece confirmed this week that they will join Foo Fighters on the bill of the South American version of the Lollapalooza festival.
It takes place in Santiago, Chile and Sao Paulo, Brazil in March and April 2012.