Showtime network renews Dexter for another two series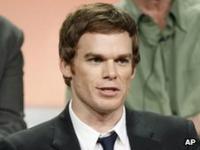 US drama Dexter has been commissioned for at least two more series.
The green light for series seven and eight came after the show's star, Michael C. Hall, signed a new contract.
Reports suggested Showtime, the network which airs Dexter in the US, had struggled to reach a decision over the actor's pay. Showtime haven't released details of his new deal.
Dexter focuses features forensics expert Dexter Morgan who moonlights as a serial killer.
The show will now be on air until at least 2013.
Dexter has been a ratings hit for the Showtime network since its debut in 2006 and the current series, the sixth, has been the most popular so far, averaging five million viewers.
Speaking about its renewal, Showtime president, David Nevins said: "Dexter's enormous success is a real tribute to the great achievements of its cast, producers and the powerhouse performance of Michael C. Hall."
He added: "The series is bigger than it's ever been in its sixth season, both in terms of audience and its impact on the cultural landscape."
Dexter has been nominated for numerous Golden Globes and Emmy awards.
In 2010, Michael C. Hall won the Golden Globe for best actor in a Drama.