Lady Gaga 'doesn't condone' Adele fan abuse on Twitter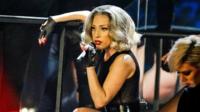 Lady Gaga says she would never condone abuse received by Adele from some of her fans on Twitter.
Negative comments were posted because the British singer has sold more albums than the US star this year.
She said: "Anyone that would say anything negative about Adele, I wouldn't support.
"I haven't read anything specifically that was said but if anything was said, absolutely I wouldn't condone anything like that."
Lady Gaga opened Thursday night's Children In Need Rocks charity concert at Manchester's MEN Arena performing Born This Way, Edge Of Glory and Marry The Night.
The singer said she loves the cause and says it's similar to her own anti-bullying charity, which she launched earlier this year with her mother, Cynthia Germanotta.
'Mutual love'
She says that's another reason why she wouldn't want her fans, who she calls Little Monsters, writing abusive messages about Adele.
"I love her immensely," she said. "She's very sweet and we've exchanged a few emails about our mutual love for one another.
"I wish her all the best in her recovery for her vocals and I can't wait to hear her new music.
"She's an amazing success in the US and in the UK and it's wonderful to see such strong women thriving in pop music."
At the weekend, Lady Gaga revealed that she would returning to the UK on tour next year.
She's promising an even more extravagant set than she used on last year's Monster Ball.
"This is a bigger and better, more beautiful, more amazing version of the Monster Ball," she said.
"The Monster Ball will never die. It was created by the fans and I'm more than confident that this will be the show of their dreams.
"I was hoping that Born This Way would be the album of their dreams.
"I'm very happy and blessed that we have sold so much in such little time and I can't wait to go on tour."