Nirvana & TOWIE in X Factor Christmas No. 1 challenge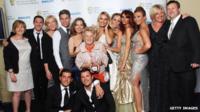 This year's X Factor winner faces competition from Nirvana, The Wombles and The Only Way Is Essex stars for Christmas number one.
Bookies William Hill have named Nirvana's Smell Like Teen Spirit as the second favourite at 5/1.
Amelia Lily is being billed as the X Factor contestant to release the show's Christmas song.
A Facebook campaign to get fans to buy Nirvana's 20-year-old hit has gained over 85,000 likes so far.
Launched earlier this year, there are hopes the campaign will repeat the success of the 2009 anti-X Factor campaign when Rage Against The Machine beat Joe McElderry.
The cast of TOWIE's version of Wham! hit Last Christmas and The Wombles, Wombling Merry Christmas single both have 7/1 odds.
A Mariah Carey and Justin Bieber collaboration on All I Want For Christmas Is You is also at 7/1.
'Unbeatable'
William Hill's spokesman Rupert Adams said: "The X Factor winner no longer looks unbeatable.
"We have seen good money for Nirvana and the cast of The Only Way Is Essex but my money is on Mariah Carey and Justin Bieber."
Just behind the US superstars at 8/1 is relative unknown 10-year old Essex schoolgirl Arianna Morgan.
Her cover of Fleetwood Mac's Songbird is released next month with the same bookmaker price as Amy Winehouse.
Other contenders for the Christmas number one include Westlife (14/1), Adele (14/1), The Smiths (20/1) and One Direction (25/1).
Amy Winehouse's posthumous album is being touted as a strong contender for the Christmas number one spot.
Lioness: Hidden Treasures, which is released next month, was produced by Salaam Remi and Mark Ronson.
Retailer HMV is tipping One Direction to take the number one spot with their debut album Up All Night.
Spokesman Gennaro Castaldo said: "With the boys already topping the calendar and poster charts, the smart money is on One Direction to also land number one."