McFly's Dougie Poynter 'advised' to enter jungle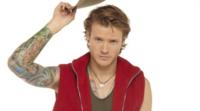 McFly's Dougie Poynter says people who treated him for depression said I'm a Celebrity... Get Me Out Of Here! would be good for him.
The 23-year-old says he carefully considered it. "I spoke to a lot of people and they all said it was a great idea," he said.
Earlier this year, Dougie Poynter was treated at The Priory rehab clinic.
Life in the outback is a way of dealing with troubles, according to Dougie: "I think it could be good, won't be bad."
In the first trial of the ITV1 series, Dougie Poynter retrieved a handful of fish guts from the tank getting stuck into the gunge for a yellow team win.
He could prove useful to his team as he used to eat bugs as a kid.
"I used to eat bugs all the time. Wax worms are particularly sweet," he revealed.
But the boy band star is more worried about what people will think of him.
"I'm just used to being the irrelevant bass player," he said.
He's also revealed having a secret phobia which could be exposed in the jungle.
According to some bookies, Dougie is second favourite to win this year.
"I do like the idea of being crowned a king," he said. "Maybe you can get into posh restaurants."
Part of Dougie's strategy will be staying out of the jungle cat fights.
He said: "I don't think I'll be involved in any of the fights but they all sound really cool."
Dougie Poynter is the last of McFly's band members to star in a reality TV series.