Justin Timberlake keeps YouTube date promise to marine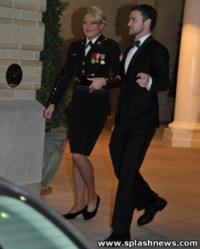 Justin Timberlake, 30, has kept a promise he made to a member of the US Armed Forces by escorting her to a ball on Saturday night.
The singer and actor dressed up to take Corporal Kelsey De Santis to her Instructor Battalion Marine Corps Ball in Richmond, Virginia.
On his website he described it as "one of the most moving evenings" of his life after being shown a tribute video.
De Santis invited the star to the event via YouTube earlier this year.
In her message she said: "You want to call out my girl Mila?
"Well, I'm going to call you out and ask you to come to the Marine Corps ball with me on 12 November.
"If you can't go, all I have to say is, cry me a river."
'Moved'
In a long post on his website Justin Timberlake described the evening as an "honour and privilege" and says they talked about her training in mixed martial arts.
He also said he was "truly moved" while watching a video of marines talking about their involvement after the 11 September terrorist attacks.
He added: "I knew I would have an evening that I wouldn't forget, something I could tell my friends about.
"What I didn't know was how moved I would be by the whole experience.
"Thank you Corporal Kelsey De Santis. Thank you for inviting me. And, thank you for being my hero."
The marine says she was inspired to ask Justin Timberlake out on a date after a similar video proposal involving his Friends With Benefits co-star, Mila Kunis.
The pair were being interviewed at the film's premiere in July when she was shown a clip of Sgt Moore asking her out on YouTube.
Timberlake encouraged the Hollywood star to accompany US Marine sergeant, Scott Moore, to his Marine Corps Ball.
At the time he said: "Have you seen this? Have you heard about this? You need to do it for your country."
Mila Kunis's date with sergeant Scott Moore is due to take place on 18 November in Greenville, North Carolina.