Fans camp for premiere of Twilight Breaking Dawn Part 1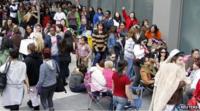 Thousands of Twilight fans are camping out in Los Angeles ahead of the new film premiere in three days time.
The Twilight Saga: Breaking Dawn Part 1 will be screened on Monday (14 November) at the LA Live complex in downtown Los Angeles.
The film will go on general release in the UK from 18 November.
Breaking Dawn is the fourth film to be adapted from the best selling novels. The first three films have made more than $1.8 billion (£1.1bn) worldwide.
They star Kristen Stewart, Robert Pattinson and Taylor Lautner.
Michelle Thompson is a Twilight fan who is sleeping outside ahead of the event.
She said: "I have seen all the Twilight movies. I have been to all the premieres (except the first). I tweet. I blog.
"I am very active in Twilight community. To just be a part of this event, it's everything."
The stories by American author Stephenie Meyer are about a young girl, Bella Swan, who falls in love with the vampire Edward Cullen in a world where bloodsuckers and werewolves roam in disguise among the living.
Lindsey Jacob is also a fan and is camping out in hope of seeing the Twilight stars.
"My friends and I have been following the Twilight stuff," she said. "We decided we were gonna go big and do LA."
The fourth film sees Bella marry Edward and become pregnant, while vampire and werewolf tribes continue to battle.