Comedian Leigh Francis to bring Keith Lemon to cinemas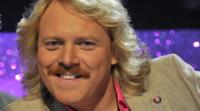 Comedian Leigh Francis is to bring his alter-ego, Celebrity Juice presenter Keith Lemon, to the big screen.
The story will show Lemon moving from Leeds to London in an attempt to make his fortune and be like his hero, Richard Branson.
Lionsgate Films UK is behind the movie, which starts shooting in Belfast next week, and it will also feature Austin Powers actor Verne Troyer.
Francis is also known for appearing in the Channel 4 series Bo Selecta!
The movie will be the character's first big screen adventure and the first time Lionsgate UK have made a comedy.
In a BBC interview, the comedian explained: "He gets carried away and loses everything, then realises that he was happier when he was not famous and goes back to Leeds."
Keith Lemon: The Film will also star Verne Troyer, who played Mini Me in the Austin Powers films.
"It's based on true life events that have happened in my true life," said Lemon in a statement.
"Apart from of course 98.2% of it which has been made up simply for entertainment purposes."
Francis has co-written the script alongside the film's director, Paul Angunawela.
However, the movie is not the first time Francis's character has worked with Lionsgate films.
Keith Lemon's Fit, a parody of exercise DVDs released last year, has sold more than 100,000 copies in the UK.
Leigh Francis first became popular in the series Bo Selecta! playing celebrity stalker Avid Merrion and doing bizarre impersonations of celebrities like Michael Jackson.