Frankie Cocozza leaves X Factor after 'breaking rules'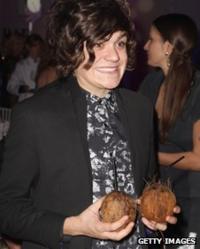 Frankie Cocozza has left The X Factor after "breaking competition rules", according to the show's producers.
The exact reason for the teenager's departure has not been revealed but he said in a statement that he "no longer deserves his place" in the series.
An X Factor spokesperson said in a separate statement: "Frankie is going to take some time out before continuing his career as a singer.
"We wish him all the best for his future."
After confirming his departure from the show, Frankie Cocozza said that his life had "gone out of control" while taking part on The X Factor.
As he left, he apologised to his mentor Gary Barlow and fans who had been voting for him.
He said in a statement: "I'd like to apologise to Gary, my fellow contestants and everyone who has voted for me, but, as of today (8 November), I will no longer be in The X Factor.
"My life during the show has gone out of control and my behaviour off stage has overstepped the rules of the competition.
"I no longer deserve my place in the show, so I am therefore leaving. I would like to thank everyone who has supported me."
In a separate statement Gary Barlow said: "Frankie has apologised publicly as well as personally to me and the producers for his actions that led to him leaving the show.
"I'm hugely disappointed that he's thrown away an opportunity like this after working so hard to get here."
Frankie Cocozza's behaviour on The X Factor this year has been the subject of an investigation by TV regulator Ofcom.
Apology
The watchdog was looking into three potential breaches of its code by the ITV1 series.
In October, the 18-year-old from Brighton appeared to swear after finding out he was getting through to the next round during a results show.
On last weekend's Saturday night show, viewers saw Cocozza out drinking with friends, which may have breached rules on glamorising alcohol.
Ofcom is also examining a problem in the same show with an on-screen contest when multiple-choice answers appeared in a different order during the programme.
The X Factor did broadcast an apology but Ofcom was looking into whether the mistake may have broken its competition rules.
The Risk, who were voted off The X Factor on Sunday's show, talked to Newsbeat about Frankie Cocozza's behaviour.
Twenty-year-old Andrew Merry said: "He's all right really. If you see him behind the scenes he's a good laugh.
"I just wish the public could see what we see because he's such a good laugh and a likeable character.
"The way he's getting portrayed is unfortunate. I hope the public can change their mind.
"He definitely likes a night out, that's obvious to see. He is a lad. He likes to go out and enjoy himself but he's also a hard working guy and a humble guy."
It is unclear if anyone will replace Frankie Cocozza on this weekend's show although producers say they will make an announcement on Wednesday (9 November).