Lindsay Lohan released from jail after five-hour stay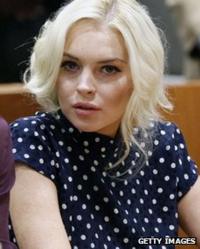 Hollywood actress Lindsay Lohan has been released from a jail in Los Angeles, less than five hours after arriving at the women's lock-up.
She was sent back to prison for violating the terms of her probation. It had been expected to be a short stay because of jail overcrowding.
The Mean Girls actress had until 9 November to report for her sentence.
It is the 25-year-old's fifth jail sentence since being arrested twice for drink-driving in 2007.
Lohan was booked into the Century Regional Detention facility in Lynwood at 8.50 pm on Sunday.
News crews at the jail say she left at 1.40am on Monday.
A judge ordered her back to jail after the actress violated court orders by getting kicked off a community service assignment at a women's shelter.
The judge imposed a complicated sentence, telling her that she would have to perform all of her community service at the county morgue or risk serving an additional 270 days in jail.
The sentence also requires the actress to have psychotherapy and appear monthly at court hearings between December and March.
The judge banned her from leaving the US and said she would need the permission of her new probation officer to travel outside California.
Lindsay Lohan spent 84 minutes in jail in 2007 before being released and in the past she has served about 20% of her sentences, or around six days, because of prison overcrowding.
The star will have to carry out 423 hours of community service at the county morgue, where she has been mopping floors, cleaning bathrooms and washing dirty sheets for the past two weeks.