Twilight stars honoured in Hollywood handprint ceremony
The stars of the Twilight films have been honoured in Hollywood by leaving imprints of their hands and feet outside Grauman's Chinese Theatre.
Robert Pattinson, Kristen Stewart and Taylor Lautner were greeted by hundreds of screaming fans as they added their mark in cement at the cinema.
They join a long list of Hollywood greats to have done the same since the ceremony started in 1927.
"I think this is the coolest thing I've done in my life," said Kristen Stewart.
The 21-year-old plays Bella Swan in the vampire film franchise.
British actor Robert Pattinson, who plays vampire Edward Cullen in the films, thanked the fans for their support.
"This is just an incredible honour because of how young we are and it's kind of ridiculous and amazing at the same time," the 25-year-old said.
"It's all down to you guys to drive this franchise forward."
Cinema release
Nineteen-year-old Taylor Lautner, who plays werewolf Jacob Black, added: "There are a few moments that mean so much, it's really hard to explain, and this is definitely one of those."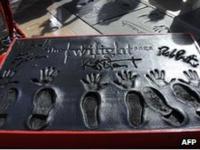 The Twilight films are based on a series of best-selling novels by author Stephenie Meyer.
They tell the story of a girl falling in love with a vampire in a world where vampires and werewolves roam in disguise among the living.
The first three films, produced by independent studio Summit Entertainment, have made more than $1.8 billion (£1.1bn) at the worldwide box office, according to Box Office Mojo.
The fourth instalment of the franchise, The Twilight Saga: Breaking Dawn - Part 1, is released in cinemas on 18 November.
Daniel Radcliffe, Emma Watson, and Rupert Grint from the Harry Potter films left their feet and handprints as well as wand marks outside Grauman's Chinese Theatre in 2007.
Other stars to have taken part include Jack Nicholson (1974), Tom Cruise (1992), Anthony Hopkins (2001) and Brad Pitt (2007).