Ospreys players banned from getting fake tans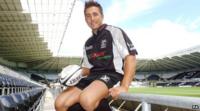 Welsh rugby union side Ospreys has banned its players from getting fake tans.
The players have also been told they cannot wear coloured boots until they have played 50 times for the side, or racked up 15 international caps.
"The fake tan and the coloured boots and the Galacticos label doesn't interest us," coach Sean Holley told the Daily Telegraph newspaper.
Former Ospreys' player Gavin Henson is known for his spray tan.
Banning the tan is an attempt to build a new identity for the club after it recently lost key players, like Welsh international James Hook.
"It's real tan only," said Holley, who added that the right to wear coloured boots had to be "earned" by playing regularly for club or country.
"We want to work hard, we want to represent our region properly", he said.
"We don't want to be false or misrepresented."
Ospreys' new approach is showing signs of paying off - the team is currently topping the Pro12 table after winning six of their opening seven games.
"We are trying to get good people, good young lads through who represent us well and I think we are achieving that at the start of the season," said the coach.