Chris Martin: Coldplay bond helped me marry Gwyneth
31 October 2011

From the section

Music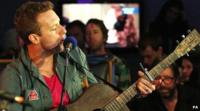 Coldplay singer Chris Martin has said he wouldn't be with wife Gwyneth Paltrow if it weren't for his band.
He told Newsbeat the four-piece's special bond was "at the heart of everything" and was something they worked hard to protect.
"I certainly wouldn't be married to who I'm married to if I wasn't in the band, so we treat it with care," he said.
The 34-year-old has been married to actress Gwyneth Paltrow since 2003 and the couple have two children together.
Coldplay play intimate Radio 1 gig in Norwich
Martin said the band's relationship was a massive influence on all its members.
"At the heart of everything, we value our relationship together because that's what brings everything else in our lives - from marriages to kids, to what kind of shoes you wear - it all comes from the chemistry of the band."
The band's new record, Mylo Xyloto, is topping the UK album chart having sold 208,000 copies in its first week.
But despite outselling the rest of the top five combined, Martin said he was staying away from the commercial side of things.
He admitted that in the past the band had been too distracted by sales.
"I asked this time not to really know. I felt like it's too easy to get caught up in all that stuff and forget you just love being in a band," he said.
"On our third record everyone got obsessed with the numbers and share prices and all that and it made us forget about the joy of making music together."
The frontman also admitted being a fan of The X Factor, saying Gary Barlow was doing "great" on the show, but underlined it wasn't something Coldplay would appear on.
"It's kind of like it's a dress and we're a man... We love it but it wouldn't be a fit," said Martin.