Charity forces X Factor band Rhythmix to change name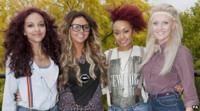 The X Factor girl group Rhythmix are to change their name, following a threat of legal action by a Brighton charity with the same name.
The charity uses music to help disadvantaged youngsters and claims Simon Cowell's production company Syco had initially failed to enter into a discussion about the name clash.
It said that having a band with the same name would affect its future work.
The X Factor said the girls would announce a new name "in due course".
Producers at X Factor said they knew the charity existed, although the band had originally settled on the name without being aware it was used elsewhere.
However, because the name Rhythmix was trademarked for educational purposes, the programme makers said they believed there was no conflict with the band or X Factor.
Following the initial clash, the charity accused the TV show of failing to consider "any of the moral implications of their actions".
It then published an open letter to Simon Cowell on Facebook.
Rhythmix Chief Executive Mark Davyd wrote: "We don't buy this media invention of you as Mr Nasty. Your Wikipedia entry explains at length your involvement with children's charities and we commend you for it.
"But equally we don't believe that you are unaware of the way your own company is acting. Or maybe your staff are trying to 'manage' it for you?"
X Factor producers agreed on Wednesday afternoon to change the name of the girl group.
Their statement said: "At the request of the charity Rhythmix, the members of the girl group Rhythmix have decided to change their name, a decision which has the support of Syco and Talkback Thames.
"The group's new name will be announced in due course."