Noel Gallagher 'rejects' Liam's Oasis invitation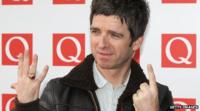 Noel Gallagher has responded to his brother Liam's invitation to reunite in 2015 by saying he can celebrate the 20th anniversary of Oasis's (What's The Story) Morning Glory? without him.
He said: "He's got my permission to go and play it. He can play it if he wants. I don't mind.
"I left that band for a reason and that reason still stands."
Speaking to BBC Radio 4, Liam had extended an invitation to bring the Manchester band back together for gigs.
"There's a lot of talk of him going into interviews saying it'd be great to get back together in 2015 and do the Morning Glory tour and I'm down with that," Liam said.
"We've got another Beady Eye record to make, then have a year off, then I'm down for a 2015 reunion with my beautiful brother Noel Gallagher.
"It's not a definite. But I'm up for it."
Noel Gallagher left Oasis back in August 2009 saying that he could no longer work with his younger brother.
This weekend he topped the UK's official album chart with his debut, Noel Gallagher's High Flying Birds.
He beat off competition from 2010 X Factor winner Matt Cardle.
"The X Factor mob sell a lot of records so I was quite surprised to be honest," Gallagher told Newsbeat.