YouTube boosted by music videos to pull behind Facebook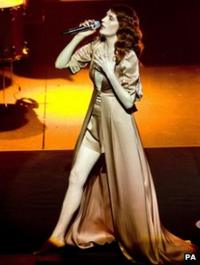 Visits to video-sharing websites by UK users have gone up by more than a third in the last year.
The biggest driver of traffic to those sites is music videos (33%), followed by TV shows (17%), film (11%), gaming (10%) and news (9%).
The figures, from internet research company Experian Hitwise, show YouTube accounts for nearly 70% of all video website hits.
It's now the third most popular site in the UK after Google and Facebook.
Lady Gaga was the most in demand for artist within music searches.
Florence Welch, from Florence and the Machine, said the site was also a benefit in providing inspiration to songwriters.
She says: "I became really obsessed with watching Otis Reading, Sam and Dave, clips from the '60s and the Lana Del Rey videos recently.
"YouTube is a huge thing for me to find songs, it's an amazing thing and full of the most random songs.
"I think for finding random stuff and seeing new things it's really useful".
'800 million hours'
The research was gathered between September 2010 and September 2011.
During that time 240 million hours every month were spent by British internet users watching videos online.
Illustrating its dominance in this area, Google owned YouTube, clocked up 184 million of those hours.
That number is still dwarfed by the amount of time spent on social networking sites though.
The same research shows 800 million hours were spent each month on sites like Facebook and Twitter by the UK's internet users.
Despite YouTube's dominance of video sharing websites there was also strong growth for other ones too.
BBC iPlayer, the second most popular video site, experienced a 22% rise in traffic last year.
That means the number of visits to the site has doubled in the last three years.