Golden Joystick Awards: Portal 2 named ultimate game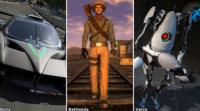 Portal 2 has been crowned the ultimate game of the year at the Golden Joystick video game awards.
It beat competition for the top prize from the likes of LA Noire, Call of Duty: Black Ops and Gran Turismo 5.
With more than two million votes cast across 14 categories, organisers claim it is the biggest video games award ceremony in the world.
However this year, with no game winning more than one award, there was no particular standout title.
Angry Birds continued its seemingly unstoppable rise to the top of the smartphone gaming world, with the best mobile award for its Rio edition.
The biggest seller of the last 12 months, Call of Duty: Black Ops, had a quiet ceremony by the series' standards, picking up just one award, best shooter.
In the best sports game category FIFA 11 pipped its rival Pro Evolution Soccer.
But the big winner at the awards was Portal 2 - a first person puzzle-platform game that sees players trying to make it through a series of chambers by using a special gun to create portals.
The game has also been praised for its humour, with Stephen Merchant - from The Office and Extras - providing the voice for one of the characters.
Sonic 'honoured'
Arguably the second most significant prize is the one to watch award, and that went to Elder Scrolls V: Skyrim - good news for its makers ahead of next month's release.
Meanwhile, the outstanding contribution gong was won by Sonic The Hedgehog, who is celebrating 20 years since first being unveiled by Sega.
David Corless, Sonic brand director, said the hedgehog was a timeless character who had transcended video games and whose appeal had been extended by the boom in smartphone gaming.
"It's quite rare in any forms of media that TV or cartoons for kids can endure for such a long time. Even in a video game it's quite rare.
"The fact that Sonic is still around and still doing as well as he is is fantastic, and testament to the little blue blur as we call him."
Mr Corless added that Sonic's traditional rivalry with Nintendo's Mario was now a thing of the past.
"It was a Blur versus Oasis thing about 10 or 15 years ago, but they recently joined forces and appeared in some games together.
"We've put all those dark days behind us," he joked.