Jessie J works with David Guetta on new track for album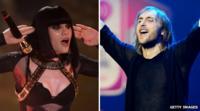 DJ David Guetta says he is "really excited" after working with Jessie J on a track for her new album.
"We just made a really big record, Jessie J and me together," he said.
There are no details about the new material yet but this is not the first time David Guetta has worked with the 23-year-old singer.
Earlier this year, the French DJ and producer reportedly delayed the release of his Nothing But The Beat album so she could appear on his song Repeat.
"There was one record we made and it went so well, we decided to do one for her new album. [I'm] really excited about it."
There are no further details about the new Jessie J album yet.
Her debut Who You Are was released in February and went to number two in the UK album chart.
"She's really amazing, a very positive person. I'm really happy that we did it," David Guetta added.
Earlier this week, it was announced Jessie J would be one of the artists performing at the MTV Europe Music Awards in Belfast next month.
The music channel will be taking over the city on 6 November for its annual ceremony, and for the first time the MTV Europe Music Awards will be held in three different locations.
Lady Gaga and Bruno Mars will join Coldplay, Jessie J and LMFAO in performing at the Odyssey Arena.
The Red Hot Chili Peppers will be playing at Ulster Hall, while Snow Patrol and Jason Derulo will be on stage at City Hall.