Angry Birds confirm work on a film version is underway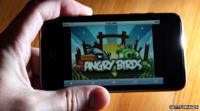 The company behind Angry Birds has confirmed work is underway on a film version of the successful game.
Rovio's North American general manager Andrew Stalbow said they were working hard on the movie.
"We recently hired David Maisel, former Chairman of Marvel Studios who produced Iron Man, to lead our movie efforts," he said in San Francisco.
He also revealed the game had been downloaded 400 million times and that they had big expansion plans.
"We're building a next generation media company," he said.
Rovio, which is based in Finland, recently bought an animation studio based in Helsinki.
That studio is now working on a series of short videos that will be released next year.
"Our big audacious goal at the company is to have one billion fans," Andrew Stalbow added.
"Our growth has been very strong but we've only just started.
"Half of our fans right now are in the United States.
"But the second biggest market for us is China which is also our fastest growing market."
The plans mean the company has come a long way since it was on the verge of going bust just two years ago.
"Back in 2009 the company was struggling," Andrew Stalbow said about the firm, which now employs 170 people.
"It was down to 12 employees and with the business a little bit on the precipice. It put all of its experience to create a game that really differentiated itself."
That game became the phenomenon that is Angry Birds, which has led to Rovio being recently valued at £760 million.
Stalbow added: "The brand and the fans are at the heart of what we do. We make all our decisions based on the brand and the fan experience."