The first pictures of Mariah Carey's twins are released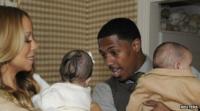 The first picture of singer Mariah Carey and Nick Cannon's five-month-old twins has been released.
It's ahead of a US TV interview to be aired tomorrow [Friday], as the couple introduce children Moroccan and Monroe to the public.
In the exclusive footage on ABC, Mariah Carey and her husband openly discuss marriage, the struggle to conceive and high-risk pregnancy.
"When I was pregnant, I did floral arrangements," the 41-year-old said.
"I cooked, I ended up in our house like Suzy Homemaker, but it kind of turned out great."
Pregnancy cravings
The singer also revealed that she craved a lot of soft drinks.
"I just wanted thirst quenching things," she said. "I didn't even care about the food, apart from candied apples in the beginning."
America's Got Talent host Nick Cannon has says he hopes his children "strive for something greater than entertainment" when deciding what they want to do for a living.
He has also revealed that his wife didn't want to have any more children although he was "open to the idea".
The babies were born on 30 April and are referred to by the couple in the interview as "Roc and Roe".
The interview is on ABC's 20/20 programme with Barbara Walters, on Friday 21 October at 10pm in America.