Teenage job advice is cut by £100 million in England
20 October 2011

From the section

Politics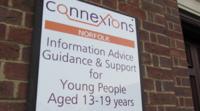 The amount spent on job advice services for teenagers in England has been cut by more than £100m a year since 2008, a Newsbeat investigation has found.
Many Connexions centres have already closed down after councils were told they would not have to fund the services from next April.
What is Connexions?
Connexions was set up in 2000 to give teenagers job and training advice and help with money problems, like claiming benefits.
Personal advisers are based in schools, colleges and Connexions centres across England.
The service is open to all 14 to 19-year-olds.
Much of the advice is aimed at Neets, which stands for teenagers Not in Education, Employment or Training.
What is changing?
At the moment Connexions is paid for by local councils.
The government has said those councils will not have to fund the service from next April.
As a result, Connexions centres are shutting in parts of England and the name is being phased out.
In other areas though councils have decided to keep the services going with very little change.
What is taking its place?
The government wants schools and colleges to offer job and career advice instead.
A new law will force them to do that from September 2012.
Critics say the government is not providing any extra money, instead colleges will have to pay for it out of their existing budgets.
As things stand we don't know if they will have to offer a face-to-face service like Connexions or just point teenagers to a website.
After next April, councils will still have to offer job advice to teenagers not at school or college, although critics say that will be much more difficult if Connexions centres have been closed down.
Why close them down in the first place?
Part of this is about saving money.
Although local councils pay for Connexions they are helped by a large grant from central government.
Cutting the service could save more than £200m a year at a time when money is extremely tight.
The quality of Connexions itself has also been criticised in the past.
The current coalition government said it has often been "poor and patchy" while a report written for the last Labour government called it "simply not good enough".
I use Connexions. What does this mean for me?
It completely depends on where you live in England.
In some counties like Kent and Nottinghamshire, you might not notice much difference.
Opening hours may be cut and advisers may give priority to vulnerable teenagers.
It's a completely different situation though in places such as Essex, Norfolk and parts of London where all Connexions centres have already closed down.
From April 2012 the government is planning to launch a new national careers service aimed at over-18s.
There will be a helpline and website with advice on getting on courses and finding jobs, and the chance of some face-to-face advice.
It is not really designed for teenagers but they will still be able to use the telephone and internet services.