Coldplay's Chris Martin: We're tight as a gang again
18 October 2011

From the section

Music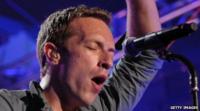 Coldplay's Chris Martin has said the band are "very focused" and "tight together as a gang" as they prepare to release their fifth album, Mylo Xyloto.
Speaking to Radio 1's Zane Lowe the band's lead singer said: "We are very driven at the moment.
"On the last record we took some blows from a few different sources. All that stuff just adds fire to everything."
He referenced the band being sued by rock guitarist Joe Satriani in 2008 as one of the difficulties.
Satriani had accused Coldplay of copyright infringement, saying they had copied his song If I Could Fly for their single Viva La Vida.
The dispute eventually settled out of court in September 2009.
'Momentum'
Martin explained that the band were quick to begin working on new material after the release of their last album, 2008's Viva La Vida Or Death And All His Friends.
"As soon as we finished Viva La Vida [producer] Brian Eno wrote to us and said, 'We've got to keep going.'
"He felt like everybody was on a good track. He said, 'I don't want to lose the momentum.'
"It took us a while to get going with him and [co-producer] Marcus Dravs because we had lost a lot of confidence. By the time we finished that record we were in a good place.
"We've definitely put in the man hours. We started recording on tour this time."
Boundaries
Mylo Xyloto, which will be released on 24 October, features a track called Princess Of China, a collaboration with R&B star Rihanna.
Martin explained that the band were a fan of her music and that they saw no reason why their contrasting musical styles should not come together.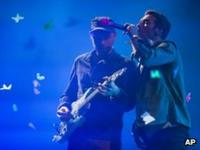 "Don't you think that music now shouldn't fall into a particular box? I don't think anyone thinks like that any more," he said.
"You don't see so many goths, hippies, rockers and hip hoppers any more. People like Kanye [West] are changing the way we all listen and the internet.
"Look at Tinie Tempah. Just the song Pass Out has about eight different types of music in it.
"This time, we're on our fifth record, we're all in our early to mid-30s so there's an element of, 'If we don't make it now we've got to give up.'
"Brian was so encouraging of us, allowing all of our passions and influences to come through. In a way, there's nothing to lose."