Outkast rapper Big Boi avoids jail on US drug charge
14 October 2011

From the section

Music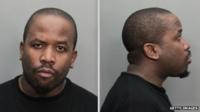 Grammy Award-winning Outkast rapper Big Boi will avoid jail on drug charges in Florida if he passes several drug tests and performs community service.
The Atlanta-based star, whose real name is Antwan Patton, was arrested in Miami after leaving a cruise ship in August.
Authorities accused him of having drugs including ecstasy and MDMA powder.
In court, the 36-year-old rapper accepted an agreement that could lead to the two drug possession charges he faces being dropped.
Big Boi will be required to report to court for monthly drug tests for three months, according to the Miami prosecutor's office.
He must complete 30 hours of community service and donate $2,000 (£1,271) to charities.
The charges will be dropped if he remains drug-free and stays out of trouble for three months.
Big Boi is eligible for the monitoring programme because he has a clean record and doesn't have a substance abuse problem.
Outkast was formed by Andre Benjamin (who later became known as Andre 3000) and Patton (Big Boi) in the 1990s.
The pair have released six albums with their 2003 record Speakerboxxx/The Love Below making it to number one in the US Billboard chart.
Lead single Hey Ya! hit top spot in America and made it to number three in the UK singles chart.
Outkast have also won six Grammy music awards.