What do Europe's debt problems mean for UK jobs?
14 October 2011

From the section

Politics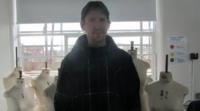 It's the crisis that isn't going away.
Politicians from around the world are meeting again to talk about Europe's financial problems.
Countries like Greece, Spain and Italy are struggling with massive debts - it's thought a Euro bailout fund may need to be increased to more than £2 trillion.
So as finance ministers get together in Paris, what could the crisis mean for jobs in the UK?
Newsbeat has been to meet one young businessman who relies on selling to Europe.
Christopher Raeburn started his clothing label in 2008, right in the middle of the recession.
The 29-year-old's jackets have been worn by people like Tinie Tempah and Christina Aguilera..
Christopher, who is based in Hackney in East London, now sells more clothes outside the UK than in this country: "Export is a very big part of the business."
It is the same for hundreds of other British firms, and 40% of all UK exports go to European countries.
That is why Britain wouldn't be safe from a recession caused by the debt crisis, even though we don't use the Euro.
Buyers 'more cautious'
"There are obviously very big problems in some of the countries where we're selling at the moment", says Chris.
He has already had orders from Greece cancelled, but can't be sure whether this is linked to the country's financial mess.
In general though, he says: "Buyers are more cautious when they are coming to see the collection. They're buying more established designers that have a longer heritage or a longer tradition."
Christopher has about 15 staff: "Ultimately, the sales book dictates how many people I can employ. It can be quite tricky if you have reduced orders to keep hold of those staff.
"I'll be honest - I'm not watching the stock markets every single day. But as a businessman and a creative person, you'd be crazy not to consider what's happening with the economy."