Girls Aloud's Sarah Harding enters rehab for depression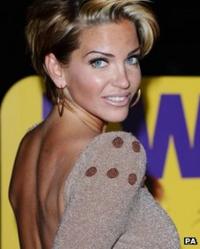 Sarah Harding is having treatment for depression and alcohol addiction, her PR company has confirmed.
The Girls Aloud singer, who is reported to have recently split up with boyfriend Tom Crane, had been working on new film Run For Your Wife.
In a statement, Supersonic PR said: "Sarah Harding has entered a treatment centre. There will be no further comment on this matter."
The star got engaged to Tom Crane in January after he proposed on holiday.
But wedding plans were put on hold after a series of arguments.
The pair split up in September.
In July fellow Girls Aloud singer Nadine Coyle revealed the group were planning a reunion tour for 2012.
She said: ''We're definitely going to do something, but it's a whole huge production.
"Girls Aloud is not just us five, there's a ridiculous team of 50 who travel with us, it's amazing."
Apart from singing in Girls Aloud, Sarah Harding has appeared in the two St. Trinian's films.
She has also promoted a famous brand of lingerie.