X Factor names Wishing on a Star as its charity single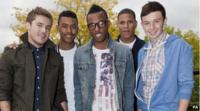 Wishing on a Star has been announced as this year's X Factor charity single - it will be out on 19 November.
All the finalists will record the track - a cover of a 1978 song by Rose Royce - in London this week.
Money raised will go to ACT and Children's Hospices UK, which Simon Cowell said does "amazing work".
It's the fourth X Factor charity single. Previous efforts have covered songs by Michael Jackson and David Bowie.
X Factor boss Simon Cowell said he was "thrilled" that this year's song would help out the charity, which gives support to children and young people who are to die before they reach adulthood.
The show's 16 finalists also said they were pleased to be involved with the project.
"It's an honour to record this song, and an honour to be a part of a charity with such a great cause," said 22-year-old Craig Colton, who sang Jar of Hearts during last week's show.
Fellow hopeful Marcus Collins said Wishing on a Star was one of his favourites and a "fantastic song, filled with hope".
Last year's single, Heroes by David Bowie, raised money for Armed Forces' charity Help For Heroes, while in 2009 You Are Not Alone by Michael Jackson raised money for Great Ormond Street hospital.