Inbetweeners would shoot film sequel, say cast members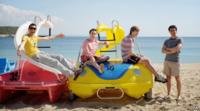 The cast of the Inbetweeners have told Newsbeat they would consider doing a sequel to the first film.
The movie version of the TV series has made more than £44 million at the UK box office so far.
James Buckley, who plays Jay, said: "If there's a good idea then I can't see why there won't be a follow-up in some sort of way."
The film had the biggest ever opening for a UK-produced comedy.
It saw the four main characters - Will, Simon, Jay and Neil - go on holiday to Malia in Crete.
Speaking backstage at Radio 1's Teen Awards, Simon Bird, who plays Will, said they didn't know what was happening at the moment as regards to a sequel.
"The decision on a sequel is not up to us anyway," he said. "Iain (Morris) and Damon (Beesley) are the writers. It's their baby so it's up to them."
James added: "None of us would like to do a rubbish film or series though but we all love working together and we love making the Inbetweeners."
'Parting ways'
Rumours online have suggested the foursome might reunite at a friend's wedding.
Blake Harrison, who plays Neil, has ruled out the group going to the same university.
"They wouldn't go off together," he said. "They're very different people.
"I don't know what will happen in the future. You can take the end of the first film as 'that's that', they've had this great holiday and now they're parting ways."
Simon said although he was pleased with the film's performance at the box office there was another achievement.
"We want to beat the King's Speech," he said. "That's on £45.1 million, so keep going back."
The Inbetweeners was named best British TV show at Radio 1's Teen Awards which took place at Wembley Arena in London at the weekend.