iPhone 4S launch heats up smartphone rivalry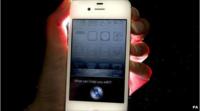 By the time Apple bosses got on stage to unveil their latest handset, speculation had reached fever pitch.
Phillip Schiller, taking the place of former CEO Steve Jobs, outlined some of the new features of the iPhone 4S.
"Of course it starts with the retina display, of course it's glass on the front and back and has that incredible stainless steel band around it making it the world's thinnest smartphone."
But with no big redesign of the physical handset many people felt disappointed.
Phillip had some advice for Apple watchers: "Don't be deceived because on the inside it's all new."
Those new features include the same processor as the iPad 2 - the A5, which makes it roughly twice as fast as the iPhone 4. That means better graphics in video games.
There's also an eight megapixel camera, a new voice control system and longer battery life.
But on Twitter, a lot of people weren't impressed. Adam Goddard tweeted: "Overall bit disappointed and it's no iPhone 5".
Jamie Patrick said it's not a "wow, break through device", while Andrew P disagreed - calling it "another huge step forward".
Dinar Patel wrote: "Can't believe Apple's fallen so far behind Samsung".
That point is key to why the rivalry between the two companies has grown fierce.
Fierce competitors
The smartphone and tablet industries are worth tens of billions of pounds every year.
Both Apple and Samsung are fighting to win over the same customers.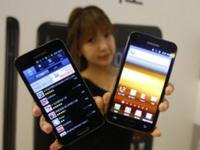 At the moment, the iPhone and iPad are the most popular smartphone and tablet PC in the world. But Samsung is catching up.
Its smartphone sales jumped 500% in the second quarter of 2011, easily surpassing Apple's 142% growth - although Apple did sell one million more handsets.
Figures like that are just acting to make the rivalry more serious. Both companies are currently taking action against each other in nearly a dozen countries including America, the UK, Germany, France and Italy.
They involve disputes over things like handset design, touch screen technology, wi-fi capability and tablet innovation.
Samsung's had to remove or delay the launch of products in Australia and Germany, but it's fighting back by trying to prevent the launch of the new iPhone 4S in France and Italy.
With so much money at stake it looks like neither company intends to back down.