Jessie J revealed as coach on BBC programme The Voice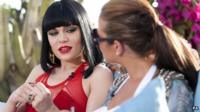 Jessie J has revealed that she will be a coach on new BBC programme The Voice.
The singer is one of four stars who will mentor contestants on the UK version of the show.
The series, which has already been a hit in the US, will launch in the spring on BBC One.
Jessie J told Newsbeat: "It's all about the voice. I love the idea of being a coach and a mentor and not a judge. I wanted to be involved. They approached me and I was well up for it."
The singer announced the news on the Chris Moyles Show on Radio 1.
'Find their voice'
In the show, contestants will get through on the strength of their voices rather than how they look, with "blind" auditions.
The singer said that was what attracted her to the show.
"One of the reasons that I love it is because it is a coach," she said.
"It's not telling someone whether they're good or not.
"It's helping them find their voice and who they are and making it something that they could give to the world."
Jessie J insists she has the credentials to take part in the show, despite releasing her debut album earlier this year.
"For me, there's that feeling of, 'Have I done enough to coach someone?' But I've learned a lot.
"I'm 23 and I meet a lot of young people, singers and songwriters that want to blossom and they ask for my advice and my opinion because I've experienced it.
"By the time the programme starts it's going to be another six months time and there'll be a lot more that has happened."
'Strong personality'
Jessie J won the critics' choice award at the Brits earlier this year and topped the BBC's Sound of 2011.
She had a number one single with Price Tag with her debut track Do It Like A Dude making it to number two.
The US version of The Voice, meanwhile, has featured Christina Aguilera, Adam Levine from Maroon 5 and Cee Lo Green as coaches.
The BBC said: "There's no room for comedy performances or people who rely on looks to get them through.
"This is the first talent show that focuses on what really matters when you're a singer. It's all about the voice."
BBC One controller Danny Cohen said: "Jessie J is going to be an amazing coach on The Voice UK.
"She's a massive young star with a strong personality and her recent Mobo nominations are testament to her musical and creative ability."