Take That back to four-piece band, Gary Barlow confirms
4 October 2011

From the section

Music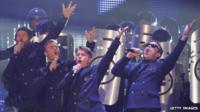 Gary Barlow has admitted that Take That are a four-piece again, saying the group's time with Robbie Williams had ended "perfectly".
A spokesman said the band was simply "on a break" from its present line-up.
"It was beautiful," Gary said. "We got on well. We finished the tour. The fans have come along and been happy. Now Rob's doing a solo record and from this point it's back to where it was."
The spokesman said: "I can confirm that the band are not splitting."
"The band are on a break, Gary is doing X Factor and Robbie is working on his new solo album."
Gary Barlow made similar comments about the band's line-up earlier this year.
'Year off'
Take That performed their first full tour with Robbie Williams for 16 years this summer, Progress Live.
They broke the record for the highest grossing concert series.
According to Billboard Boxscore, the group made more than £38m during their eight nights at Wembley Stadium in June and July.
They also released an album together, Progress, which made it to number one in the UK album chart.
"You know what, we can revisit it whenever we want," admitted Gary Barlow.
"He's our brother, Rob is, and if he's ever in trouble or he wants to have a year off being Robbie Williams, he's welcome any time he wants."
The 40-year-old also talked to the Radio Times about the tensions that existed between the group and Robbie Williams.
"It would be unfair for me to say he's the one with the ego because I've got a pretty big ego as well," he said.
"And especially in those younger days when I was 24 and he was 20, but then you come back - I was 38 and he was 34 - and it's like 'Let's talk this through'.
"All those years I'd just imagined this moment to actually be sat there opposite this person who'd said so much worse than anybody else had ever in my life, done so much damage and said so much bad stuff.
"To eventually be sat there opposite the person was liberating."