'Too many loopholes' in Scotland discount alcohol law
3 October 2011

From the section

Health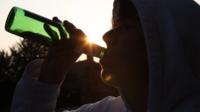 There are too many loopholes in a new law which has come in to stop retailers selling drinks promotions, says Scotland's biggest alcohol charity.
Shops and supermarkets can no longer make offers like buy one get one free or three for £10.
There is also a restriction on alcohol advertising in stores.
Doctor Evelyn Gillan from Alcohol Focus said: "Supermarkets can reduce the price and you can still get a deal. That is why we need minimum pricing."
Newsbeat spoke to the biggest supermarkets who said they were all taking the law changes seriously and would continue to offer value for money for customers.
'Saves money'
Dr Gillan doesn't think the law goes far enough.
"We need a ban on multi discount buys in combination with a floor price," she said.
"Some supermarkets have been saying you should go online and order the booze from English warehouses.
"We have to take that very seriously. Really what they're doing is trying to flout the law."
The Scottish government introduced the changes to try to cut the amount people in the country drink.
In August this year an NHS Scotland report showed adults in Scotland were drinking 23% more alcohol than adults in England and Wales.
The government in Scotland is planning to go even further. It's proposing minimum pricing plans, the same thing has been spoken about in England in Wales.
There are also calls for something similar to be introduced in Northern Ireland.
Another change which has come in is a legal requirement for anyone who looks under 25 to carry photo ID.
'Profits'
Callum is 23 years old and from Dunbar.
He and his girlfriend Laura aren't happy about the new changes.
"I like a casual drink at the weekend," he said. "I would only buy something if there's a deal on it. It saves me money.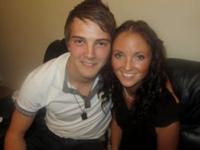 "If there's a buy one get one free I get a couple of weeks drink in one go.
"I think this is going to be a bit of a hit in the pocket now.
"I think the wrong people are going to suffer from this. We don't drink much at all.
"We'll have a couple of drinks at the weekend but I wouldn't go out and buy a buy one get one free and drink it all in one night. We'd save it."
Alcohol Focus Scotland say they are worried alcohol will still be too cheap because of the discounts.
"These measures are designed to reduced the amount of alcohol people are drinking," added Dr Evelyn Gillan.
"What the big supermarkets are saying is, 'We don't care about that. We just want profits.'"