US rapper T.I. released from halfway house in Atlanta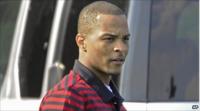 American rapper T.I. has been released from a halfway house in Atlanta.
The Grammy Award-winning artist was arrested in September 2010 in Los Angeles after he was found with four ecstasy pills.
He was already on probation after being convicted on gun charges and was sentenced to 11 months in prison for breaking the terms of his parole.
Prison officials say the 30-year-old was released in the early hours of Thursday morning (29 September).
A spokesman for T.I. said the newly-freed rapper was planning to celebrate his recent birthday and host a private brunch for family and friends in Atlanta.
He is also expected to attend the BET hip hop awards on Saturday (1 October).
TV deal
T.I., whose real name is Clifford Harris Jr, was first convicted in 2009 after he pleaded guilty to three charges of attempting to buy unregistered machine guns.
He was sentenced to a year behind bars but was released on probation.
On 31 August, he was transferred to a halfway house to complete the last month of his sentence but was immediately taken back into custody.
Officials were upset T.I. travelled with a TV producer and manager to the halfway house, accusing him of violating prison rules for discussing business deals during the 375 mile (600km) journey to Atlanta.
T.I.'s lawyer contested the move but he was sent back to the halfway house on 15 September.
Steve Sadow argued the artist didn't break any rules because a VH1 reality show and book deal that was announced within hours of his release were finalised months earlier.