Introducing... Kreayshawn
29 September 2011

From the section

Music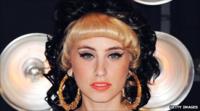 Rapper Kreayshawn is a girl of many talents. She's a rapper, a director and even DJ's under a secret name.
But it's her track Gucci Gucci which has got her recognition. The 22-year-old from Oakland, California released the video single on YouTube and got more than three million hits in three weeks.
This led to a signing with Columbia Records. She has since caused controversy at the MTV VMAs (Video Music Awards) for falling out with rapper Rick Ross and has directed a music video for the Red Hot Chili Peppers.
Kreayshawn, real name Natassia Zolot, told Newsbeat: "I'm used to shooting videos in the ghetto for like $500 (£328). It was great to see my work on a huge scale and the Chili Peppers were there.
"I enjoyed being the boss."
Recognition
The Gucci Gucci music video meant instant fame for the singer. Rapper Lil Wayne liked it so much that he used the track to spit lyrics over on his Sorry 4 the Wait mixtape.
"That track has only been around for about one minute. We were working on a little independent album and so we thought let's put something out there," Kreayshawn said.
"I ended up shooting a video for it and I put it out for a huge response. It got released on iTunes and we got so many crazy techno remixes."
Earlier this month, the singer was nominated for the MTV Video Music Award for best new artist and hosted the red carpet event before the 2011 MTV Video Music Awards.
This is where there appeared to be some type of row with rapper Rick Ross.
"Everything is cleared up now," is all Kreayshawn said.
Creative thinking
The artist now has a month off to finish her album.
She said: "It's going to be done by the end of the year, there will be a whole bunch of crazy sounds. I'm a queen of mixing up genres.
"I don't want to be known just for Gucci Gucci. I want to establish myself as an artist. Save any collaborations with other artists for the mixtape.
When asked about her ambitions, she said: "Kreayshawn is definitely forming into a brand.
"I want to branch off into clothing, more music videos, lots of creative thinking. I want to do a book, a movie about my life."